Gabriel Meyer Halevy
Was born at an educational summer camp created by his parents in Cordoba, Argentina. He grew up at the time of dictatorship and was a committed human rights & spiritual activist folloewing his late father's example, Rabbi Marshall T. Meyer by the age of 16.
He worked in theater, film and television as an actor, wrote in an underground magazine and after a brief passage through Europe & UCLA theater department, left Argentina at age 22.
Nomadic Adventures
Studied, traveled & practiced Sacred Traditions, healing wisdom, music & dance through the Middle East (Jordan,Turkey, Egypt) Europe, Brasil, Ireland, Africa (East Africa, Zimbabwe, Morrocco, Ghana) India & Native America (north, central & south) . He lived in the Greek Islands, Paris, New York, Sinai Desert .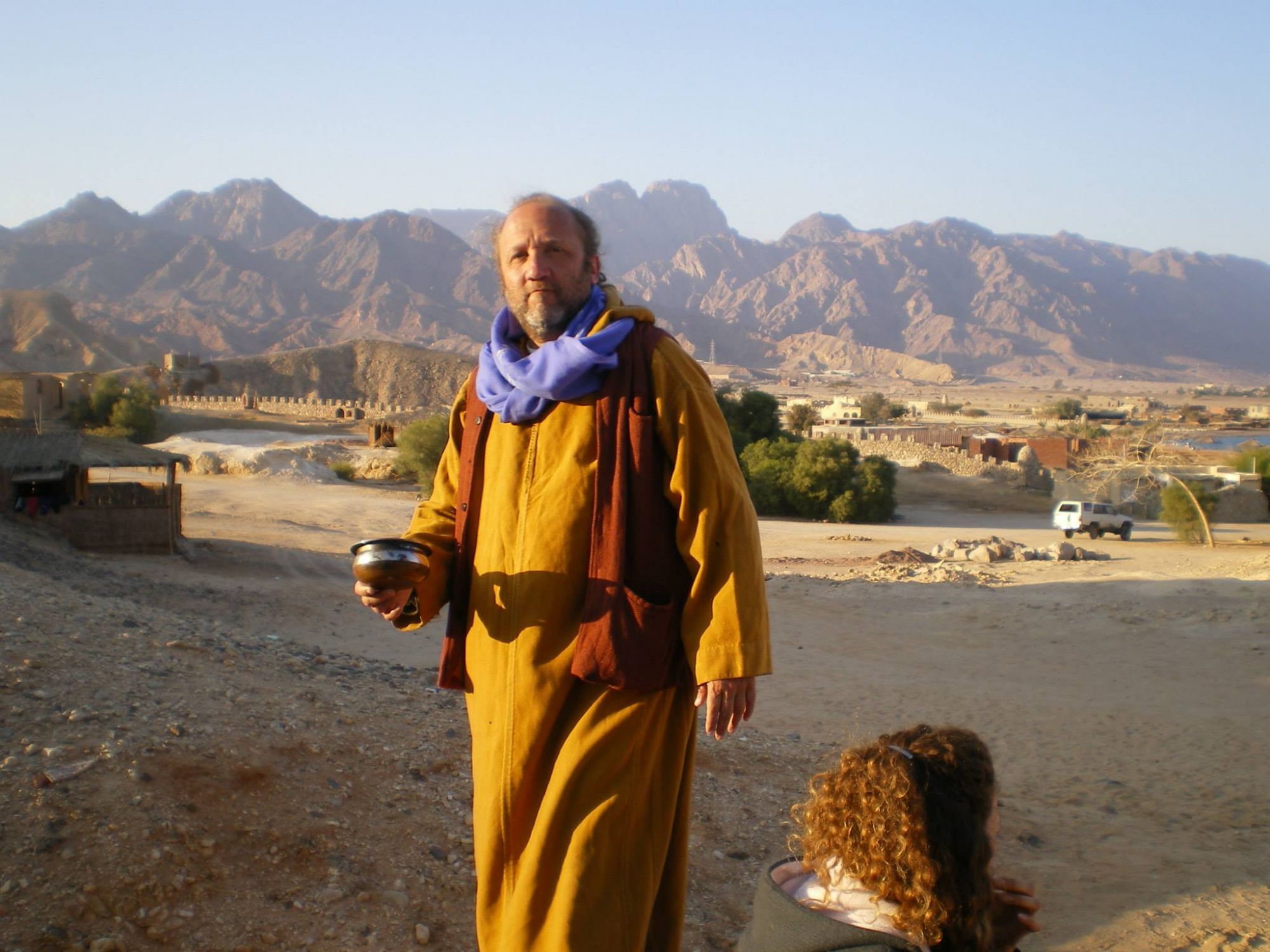 In 1993 he landed in Yaffo, Israel and after passing through the ancient city of Acco, settled in the Galilean town of Amirim for 9 years. After five years at coastal Beyt Yanai , in 2010 built his home base in the Galilean mountain village, Hararit.
Influential Teachers
He Was influenced through retreats & direct teachings by Native American Shamans & Elders.
Bhuddist Teachers: Thich Nhat Hanh, Joanna Macy, Stanislav Grof/Holotropic Breathwork, Jack Kornfield, Bernie Glassman.
Sufi Sheiks - Africa, Turkey, Holy Land, India .
African music & dance - (Krokobitey/Ghana & Guinean artists), Indian clasical music with Ustad Ali Abbas Khan (Varanassi). He continued his learning of Jewish Wisdom from his father Rabbi Marshall. T.Meyer z'l, Rabbi Zalman Shachter Shalomi, and his disciples.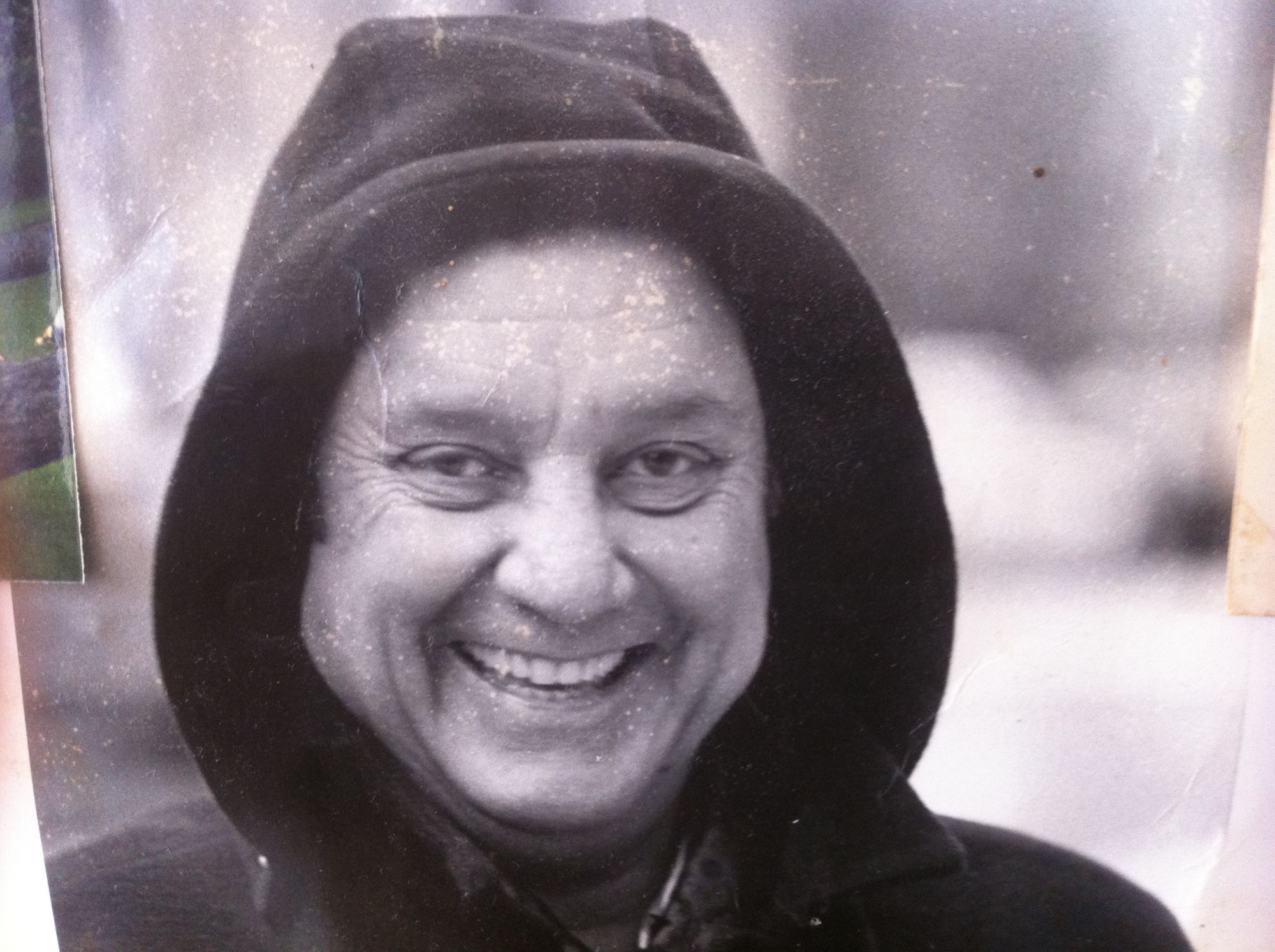 Achievements
Licensed Massage Therapist (1991), published two books of Poetry ('90 & '95).
Co-founded Metatron Ritual Theater Collective (1994 - 2001) and performed groundbreaking works at the Acco Alternative Theater festival - Enoch - Prince of Presence(1994), Celestial Wedding (1995) and Who Guards the Trees (2001), also performed at Bat Yam International Street Theater Festival .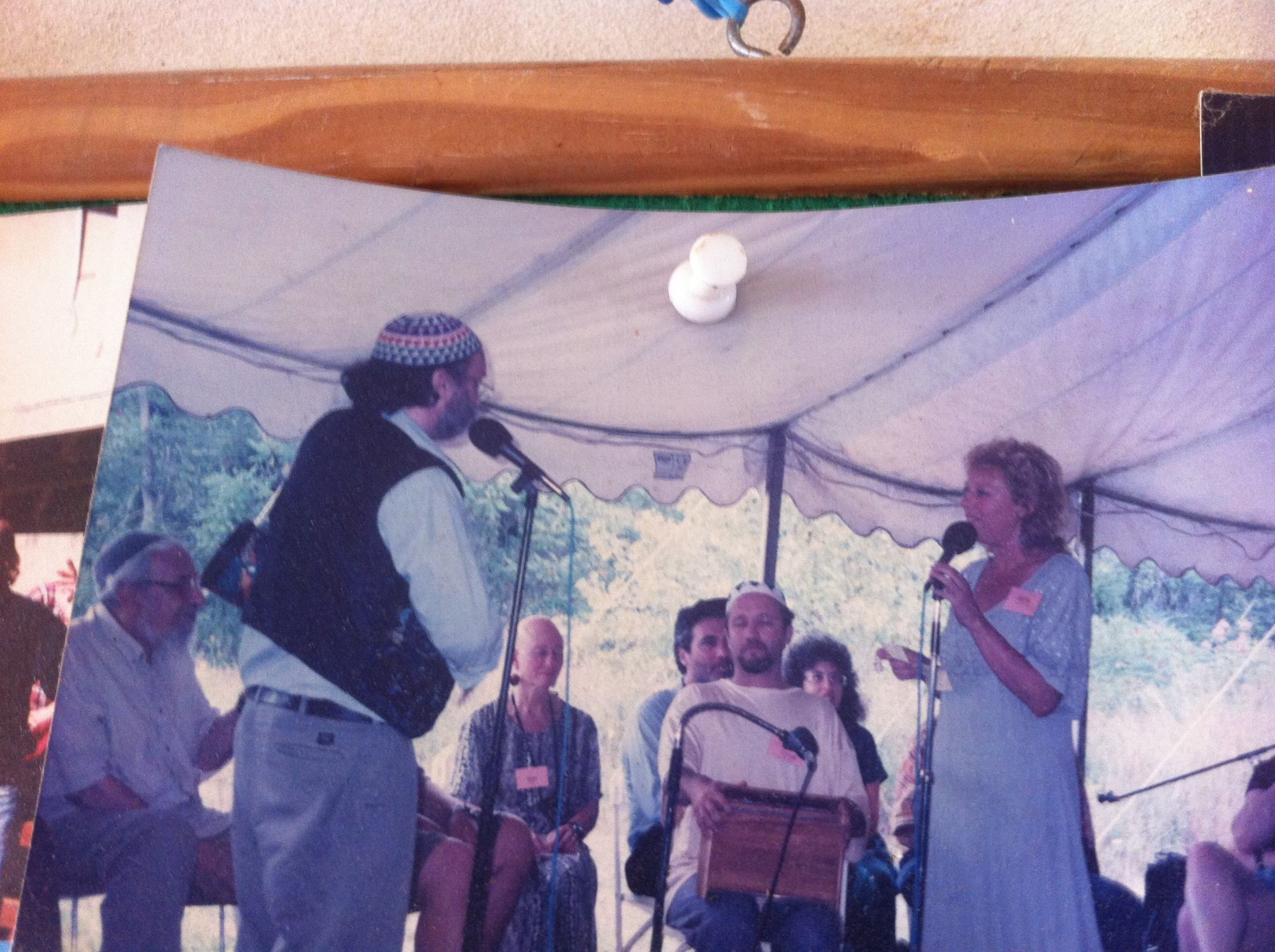 Created "The Hebrew Holyday Gatherings" (1997- 2001) for the Renewal & Resacralization of Israel. About 1000 participants of all ages took part in these seminal retreats interfacing the Hebrew calendar, Jewish ritual & wisdom with other spiritual paths.
Led Interfaith Rituals for Peace in Europe (Bearing Witness - Aushwitz), USA ( Kabbalat Shabbat & Sufi Zikr with Palestinian Sufi Sheik in Lakota Sundance), The Middle East, Central (Culture, Spirituality & Theology of Peace conference with father Chencho Alas in Guatemala ) and South America.
Ignited the "Peace Vigil" (2001) in Jerusalem together with Deborah Brous and Eliahu Maclean as response to the beggining of the second intifada.
Gabriel was Initiated into the "order of disorder" of the Global Peacemaker Community (2001) in Tantur - Jerusalem - monastery by founder of Zen Peacemakers, Zen Roshi Bernie Glassman.
Co - Founder of Sulha Peace Project (co-director 2001-2009) for the Reconciliation and Healing of the Children of Abraham - Arabs & Jews, Israelis & Palestinians - Building a wholistic Peace paradigm through youth programs, Interfaith , education and the arts. This was a grassroots peace project through gatherings in Nature. Since its inception The Sulha held its diverse programs for about 10000 participants developing the culture of listening and coexistence.
Co - created with Amir Paiss the Amen Music ensemble, which created two albums:
"Merkavah" (2001) The mystical jewels of Torah put to new original music.
"Hateva - Skin of God "( 2008 ) Deep ecology to sacred global beat. Original music & lyrics blended to ancient Hebrew Wisdom.
Received (2003) honorary degree of "Visionary, Peacemaker and true representative of the Jewish People towards other faiths", by Rabbi Zalman Schacter Shalomi.
Gabriel with Ihab & Fara Gaye in Sulha's Private Audience with HH Dalai Lama private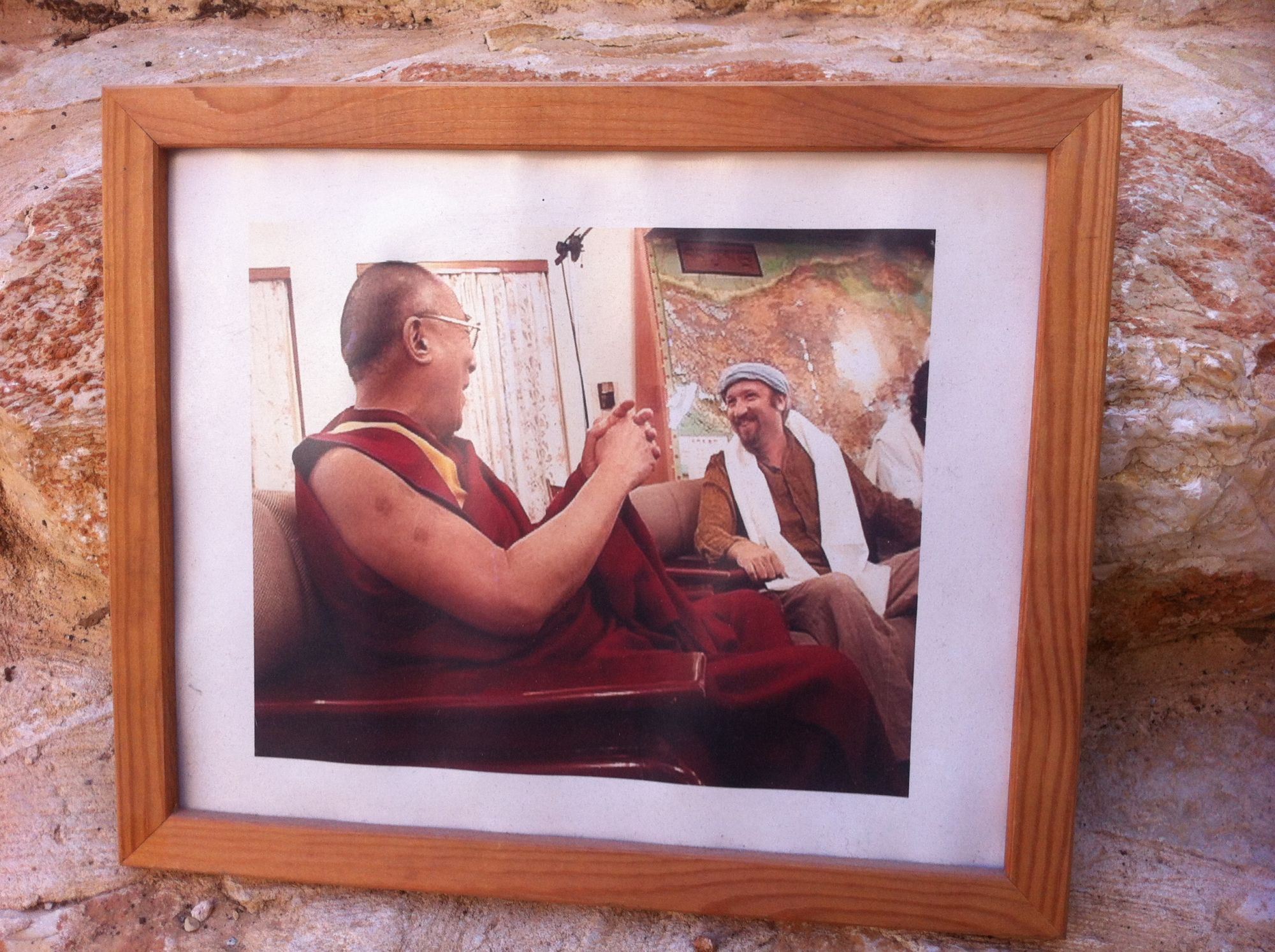 Toured USA ( March 2004 ) with "Spirit of Fez" - Fez Sacred Music Festival, Morroco -
Gabriel co - initiated & was active in the Peace in the Middle East Rainbow Gathering, where Iranians, Israelis, Turks , middle easterners & internationals met in Nature, people to people devoid of any backing or Ngo of any kind (2007- 2011).
He is a pioneer of Hebrew sacred music, Jewish & Interfaith ritual & spirituality in Israel and co - founder of the Sulha Peace Project. Gabriel serves as ambassador of a renewed spirit of Israel, offering cutting edge culture of peace, music, education & healing rooted in the prophetic values of the Jewish People: justice (Tzedek tzedek tirdof: justice justice you shall pursue) & love (Veahavta lereacha kamocha: Love your neighbor as yourself) He embodies a holy, universal, playful & grounded spirit of renewal deeply needed in our times.
He has led ritual, concerts, and workshops with great success for thousands of people around the world (Israel, Europe, North, Central & South America, India, Australia & South Africa) in the past 20 years.
Gabriel was part of the "We Refuse to be Enemies Vision Camp" during the last Gaza War (2014) in Gush Etzion, at Ali Abu Awwad's land, initiated & supported by The Tamera Peace Research Village, where Palestinians, Israelis & internationals came together in nature to embody a new paradigm for peace.
Gabriel is featured so far, in the following books:
1 - The Future of Faith by Harvey Cox
2 - Hagigah By Ohad Ezrahi
3 - Bridges Across an Impossible Divide by Marc Gopin
4 - El Gran Libro de America Judia by Isaac Goldemberg ( gabriel's poems)
5 - At the entrance to the Garden of Eden by Yossi Klein Halevy
6 - A Different light by Noam Zion & Barbara Spectre
7 - Una Noche de Libertad by Noam & Mishael Zion
His music could be described as world beat fusion - Sacred Heart, original songs & prayers from around the world.
Gabriel's albums include : Merkavah, Hateva - Skin of God - with Amen ensemble ,SpiritIsreal & Gabriel first Solo album: The Human Project .
SULHA Peace Project- H.H.The DALAI LAMA-Director Zohar Ron